Well we had fun today. In the rain.
I decided we really needed to get cracking with the sides of the bed, so we called the local timber merchants to get a price on some, er, timber. The price sounded fine.
So I sent Michael off with a list of what we needed, i.e. 6 bits of wood 200cm x 30cm x 25mm to make up the long sides, and 2 bits 120cm x 30cm x 25mm for the short sides.
Apparently that's just too complicated for the timber people. Michael phoned me while I was busy putting soil onto the bed to tell me that the wood comes in 4.8m lengths, 15cm wide. So of course, I then had to work out in my head how to make up the frames from that.
Now normally my spacial awareness is not great, which is why I have to make little drawings of everything when I plan. But since I was outside in the rain with half the garden stuck to my boots (I took shelter in the greenhouse) I was forced to visualise, and use (gasp!) mental arithmetic.
The answer of course, is to buy 6 pieces, and get 2 of them cut into 4 x 1.2m lengths each. But then the four 4.8m bits had to be cut in half to fit in the car.
So finally he got the bits home and I marked out holes for drilling pilot holes for the screws. Michael drilled, and I screwed. No jokes please.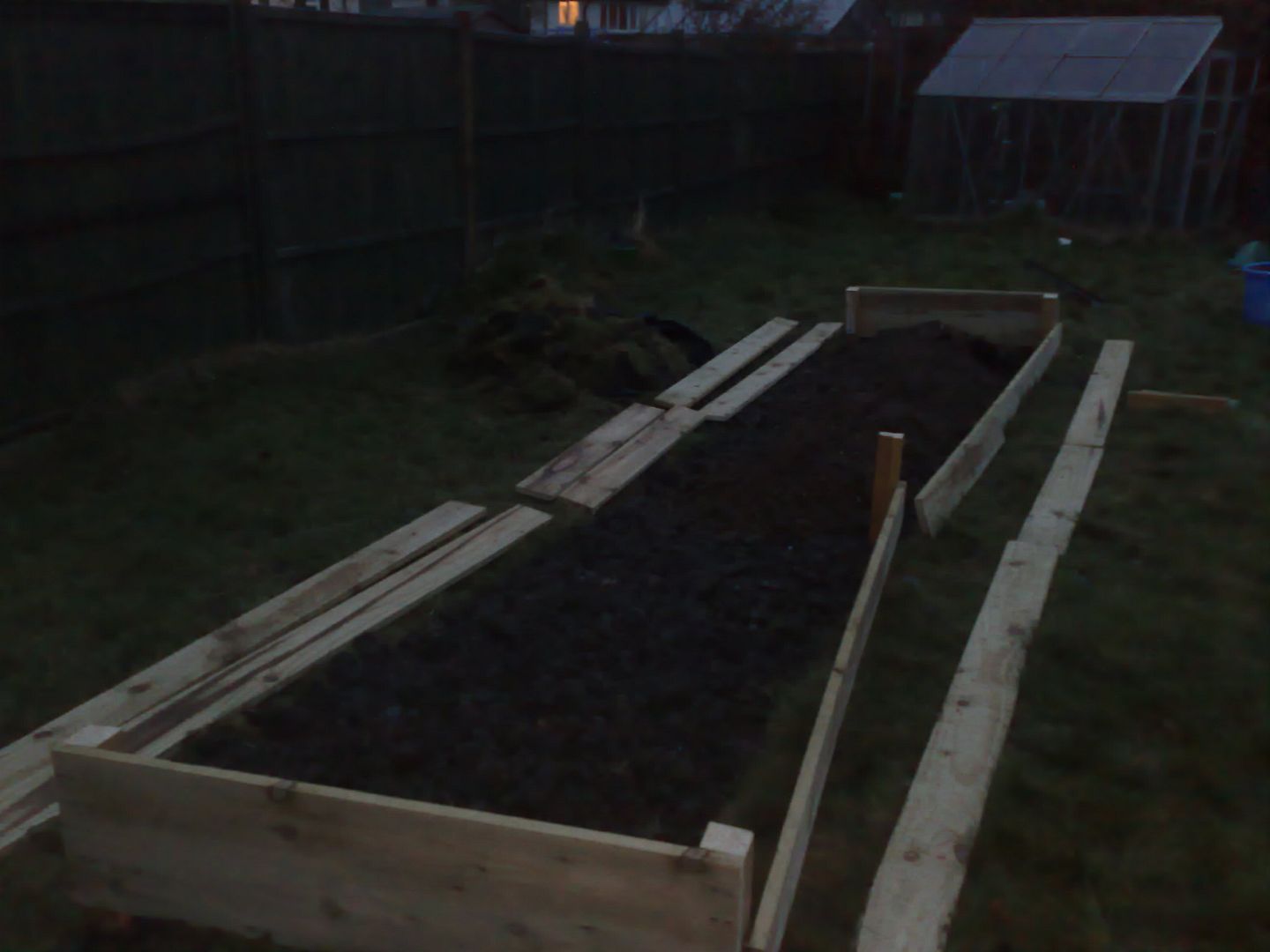 We got a few bits fastened together before the light dropped and the cordless screwdriver battery died and we had to stop. But we got a lot done today.
By the looks of things we should get bed #1 done tomorrow, soil in and everything, then I can plant asparagus and potatoes and roots! Fennel and carrots and parsnips and beetroot and salsify, along with spring onions to deter carrot flies, and sweetcorn. Yay!!
Summer's worked hard too. It's hard work sniffing everything and walking in my topsoil and chewing stray sticks.