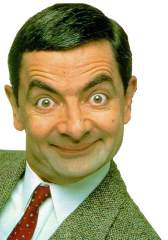 When I was a kid, the TV show
Mr Bean
was compulsary viewing in our house.
We all loved it, the daft facial expressions, the novel way of solving problems, the interactions with other people and the much-abused Teddy, and the Mini, the undoubted comic genius that is Mr Atkinson. Even my mum, known in our family as She Who Has No Sense of Humour, was known to crack a smile at particularly funny moments. And as for my dad and younger brother, they'd regularly laugh until they cried. We got all the videos one Christmas, and spent the rest of the holiday watching them over and over. One of the few programmes I remember we all approved of.
So why this post? Bear with me.
I was listening to a CD yesterday, one of my prized possessions, the recording of
In Paradisum
, my first concert with Socii Cantorum and the Ladies' Choir back in October. Mostly this was Fauré's
Requiem
and Pergolesi's
Stabat Mater
, but we did other pieces as well, including Bruckner's beautiful
Locus Iste
(you can listen to our recording of this piece and some others at my
Multipy site
).
I've played the CD hundreds of times because every piece on there is so wonderful to sing - I often use it to practice and warm up. Poor Michael is probably sick to the back teeth of it by now, but he doesn't say anything, bless him.
Anyway, back to the point. After a few times of hearing it, Michael commented that
Locus Iste
sounds a bit like the
theme tune
from
Mr Bean
. And he's right, the first couple of notes do indeed closely resemble it.
I remembered this last night, and decided to find out what the song was that was used as the theme tune - so today I started with
Wikipedia
and this is what I found.
Music
Mr. Bean is unusual amongst comedy series in featuring a choral theme tune, written by Howard Goodall and performed by the Choir of Southwark Cathedral. The words sung during the title sequences are in Latin:
Ecce homo qui est faba – "Behold the man who is a bean" (sung at beginning)
Finis partis primae – "End of part one" (sung before the commercial break)
Pars secunda – "Part two" (sung after the commercial break)
Vale homo qui est faba – "Farewell, man who is a bean" (sung at end)
That really is the coolest thing I've seen today. I'm fascinated by Latin anyway, but I'm very impressed and delighted that the "church music" I remember from the programmes actually means something meaningful within the context.
I also love the idea of using a Latin choral piece to express something other than some kind of religious sentiment. Like how cool would it be to have your shopping list sung in Latin, the instuctions for assembling a piece of flat-packed furniture, or maybe your old school report? Everything sounds better in Latin!
It almost inspires me to learn Latin specifically so I can write choral pieces about mundane things.